Kenosha Running Club Scholarship
The Kenosha Running Club Scholarship is a $2,000 scholarship exclusively for Kenosha County High School runners.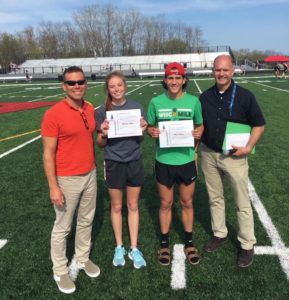 Eligibility:
Kenosha County students who will be enrolled in an accredited college or university are eligible to apply to the scholarship. The applicant must have participated in running cross-county or track, have won an athletic letter in cross country or track, have a GPA of 2.5 or higher based on a 4.0 system, and submit at least 3 letters of recommendation from a coach, principal, employer, or teachers. An academic transcript and ACT score sheet are required for the application packet. Only runners who will not receive a full-ride scholarship may apply.
Financial Data:
The scholarship award is $2,000, and is a one-time scholarship. The award is to be used for tuition, fees, and college residential costs at an accredited college or university, and will be issued directly to the university.
Application Process:
Applications may be obtained from Kenosha Unified High School guidance offices. Completed applications MUST BE submitted by April 21st, 2018. Winners will be announced at the County Track Meet on May 8th, 2018.
Previous Scholarship Winners:
2006: Zach McFall (St.Joseph), Laura Ring (Wilmont)
2008: Chris Mleczko (St. Joseph), Brittany Lumley (Tremper)
2012: Justin Kreuser (Bradford), Priscilla Colon (Tremper)
2013: Grant MacKinnon (Westosha), Danielle Macareno (Bradford)
2014: Kevin Ryan (St. Joseph), Abigale Bleil (Tremper)
2015: Scott Seymour (Bradford), Maria Sabourin (Westosha)
2016: Madison Marko, Noah Trimark
2017: Scott Grymkoski (St. Joseph), Amanda Sabourin (Central)
2018: Madison Taylor (Indian Trail), Angel Fellman (Bradford)
GOOD LUCK!
Kenosha Running Club